Industrial
Find your industrial trade and help build the future of Canada's economy
Manufacturing has always played a central role in the development of Canada's economy. This varied sector includes occupations associated with running and maintaining the plants and factories that produce Canadian goods – like the cough lozenges made in Scarborough, the baseball bats produced just outside Ottawa, or the chewy candy made in Hamilton.1
Ontario's colleges offer many programs designed to help you start an industrial career. The diplomas, certificates, and degrees offered by colleges can help you land an entry-level position in a major manufacturing facility or elevate your career through the development of innovative new skills. Additionally, college programs are also updated regularly to accommodate the many innovations – such as mechatronics, the intersection of robotics and machinery – visible in Canada's industrial landscape.
The industrial sector also faces a considerable worker shortage, meaning there are many employers actively on the lookout for machinists, millwrights, robotics engineers, and tool and die makers right now.
Facts to consider
Manufacturing accounts for roughly two-thirds of Canada's export sales, represents more than one-tenth of the nation's gross domestic product (GDP), and employs 1.7 million Canadians.2
A Canadian Manufacturers and Exporters (CME) survey of 563 companies across 19 sectors in 2020 showed that 80% of manufacturing companies are facing an immediate labour shortage.
This shortage reported by the CME – which includes more than 2,500 Canadian companies – has doubled from 40% reported in 2016.3
A 2018 study found that Canada will need over 5,000 employees in bio-health manufacturing and production, an emerging area of the industrial sector.4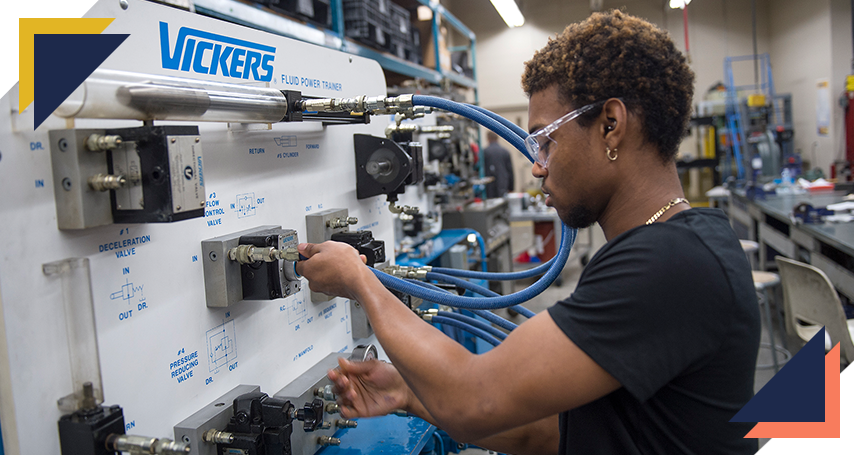 How an Ontario college can help you start an industrial career
Even though Canada's industrial sector already accounts for a huge percentage of the country's GDP, there's still great need for qualified tradespeople in this dynamic and diverse sector. You can achieve those qualifications through one of many college programs.